Choose
Quick Contact
Featured
University Avenue 6-Plex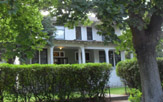 This beautiful rental is only blocks from campus. Surrounded by lush grass and a privacy hedge, its hardwood floors and high ceilings give this building unique appeal. Check out the listings page for unit availability!
Welcome
We're glad you came to RentEburg.com, Ellensburg's choice for quality apartment and house rentals.
RentEburg.com lists rental apartments and houses owned and managed by Harry Whitaker. Harry is well known for his engaging, professional nature and fair dealings with tenants. He is often contacted by previous tenants returning to the area. We love to see people returning to our rental units because it tells us we are giving our renters the great experience they deserve. But don't take our word for it - ask for a reference when you call.
So what are you waiting for? Check out our listings page to see all rental properties including availability, or just contact Harry and he can help you find the perfect house or apartment for rent in the Ellensburg area. We've got something for everyone:
Multi-unit rentals close to Central Washington University
Housing with acreage and room for your horses
Unique buildings with character and history
Reasonable prices

Give us a try and see why so many people love their experience with EburgRents.com. We look forward to hearing from you!